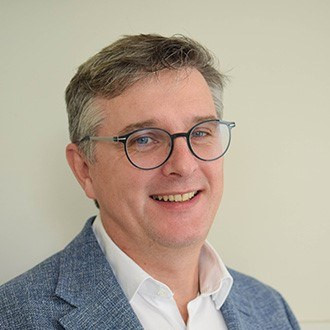 Mr. Ronan McKeown
Consultant Orthopaedic & Trauma Surgeon
MB. BCh. BAO. Dip. Sports Med. MD, MFSEM (Sports & Exercise Medicine), FRCSI (Trauma & Orthopaedics)
29+ years' experience

>6,000 consultations

>1,000 procedures

Cross-border patients
Meet your consultant
Mr. Ronan McKeown is a consultant orthopaedic and trauma surgeon. Graduating from Queen's University Belfast Medical School in 1994, he specialises in treating fractures, general orthopaedic conditions and shoulder surgery.
Mr. McKeown completed his trauma and orthopaedic training as part of the NI Regional scheme. During this time, he also undertook clinical research and was awarded a Doctorate of Medicine (M.D.) by Queen's University Belfast in 2003. In 2004, he completed the intercollegiate exam in Trauma and Orthopaedics (FRCSI Tr&Orth).
Mr. McKeown can offer you excellent treatment and strives to find the best solutions for his patients, offering high quality treatment along your treatment journey.
Professional Affiliations / Accreditations
Royal College of Surgeons Ireland
General Medical Council
Helping our cross-border patients
If you are entitled to public healthcare in the Republic of Ireland and are on a waiting list, you can have your treatment with us, at the Newry Private Clinic. Paying up front, the cost of your treatment can be reimbursed to you afterwards through the HSE.
Learn More
How we can help
At Newry Private Clinic, we offer:

Rotator cuff repair
Shoulder impingement / decompression treatment
Shoulder arthritis treatment
Shoulder replacement
Shoulder instability and dislocation help
Frozen shoulder treatment
Preparation of medicolegal reports
What our patients say
There's a reason why our Google Reviews gives us a 5-star rating.
Encountering a medical challenge can be a frightening and distressing experience. I took my mum to The Newry Clinic where all her worries (and mine) were dealt with professionally, calmly and sensitively. The appointment system was efficient and immediate, the welcome from all staff was reassuring and personalised, and the medical consultant had expertise and patient care in spades. Due to the current health care context in Ireland we found ourselves pursuing the private route for the first time, it was a pleasant and reassuring experience at The Newry Clinic.

Wendy McKeown, Newry
Had my dad at the clinic recently for Microsuction, fantastic service from Nurse McGarry and all the staff in the clinic. He felt so comfortable and enjoyed his experience, leaving the clinic with a smile on his face!

Martina McCartan, Newcastle
I attended an appointment with Dr. Glackin. my appointment was very professional and reassuring. The staff at the clinic were very friendly and helpful. Would definitely recommend!!

Odhrann McAllister, Dublin
I went to the gynaecologist in this clinic after attending one locally with an ongoing problem for over 10 years. In one single visit I was told the problem and given a prescription there and then. I'm forever thankful to the doctor as I was being treated for the wrong thing for years.

Orla Callan, Belfast
I dont usually write reviews, but for Mr. David McCaul, I owe you one! I have had 2 encounters with Mr McCaul now, once last year to fix a perforated ear drum and a few weeks back to have a procedure on my throat. He has helped me in many ways, fixing my eardrum and giving me my hearing back to 100% volume. if anyone has ENT issues, and need a diagnosis or even just a bit of reassurance, This is one Gentleman that I would give the highest recommendation for. Thanks Again to Newry private Clinic and Mr McCaul.

Craig Watt, Banbridge